CRANE Energy provides isolation, control, and flow reversal protection products for critical and severe service media in steam, utility, and process pipelines. Our products include gate, ball, plug, butterfly, globe, and the most complete offering of check valve portfolio in the market today.
Aloyco | Center Line | CRANE | Duo-Chek | Flowseal | Jenkins | Krombach | Noz-Chek | Pacific | Triangle | REVO | Stockham | Compac-Noz | NH Valves | Uni-Chek | CRANE Valve Services
The first name in corrosion resistance. Center Line is a global market leader in resilient seated quarter turn butterfly valves providing superior quality at competitive prices.
CRANE® branded products still deliver on the promise of long service life, high initial quality, and unparallel performance; just as they have for 150 years. Duo-Chek® double-dual wafer check valves are known the world over for the engineering, features, and performance. Flowseal valves are built for long lasting service; cast carbon and alloy steels, aluminum bronze bodied high performance butterfly valves that are built for your service. Jenkins valves today offers a complete range of Commercial Bronze and Iron multi-turn and swing check valves along with our brass and bronze ball valves and resilient seated butterfly quarter turn products. Krombach® and FK® brands offer a unique comibination of tradition and progress and have done so for over 60 years.Noz-Chek® valves are specifically designed for fast-reversing systems where backflow is a constant concern. In such critical service applications.
Pacific® Valves, since 1935 have been providing critical service valves including Presssure Seal multi-turn and check valves along with solutions for the Hydrofluoric Acid Alkylation service in refineries. With the addition of Stockham's Wedgeplug valve in 1997, Pacific valves handle industry's most severe services.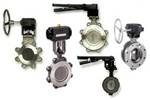 Flowseal High Performance Butterfly Valves
Flowseal is a leading provider of soft seat, metal seat and fire-safe high performance butterfly valves. Our products are manufactured under an ISO 9001 Quality Assurance Program that ensures each valve we produce meets or exceeds your exacting application requirements. Flowseal high performance butterfly valves are a standard in many industries including HVAC, Power Generation, Hydrocarbon Processing, Water & Wastewater Treatment and Marine and Commercial Shipbuilding.
Class 150 – Class 600
Sizes 2″ – 48″
Wafer and Lug Body Style
Soft Seated; Zero leakage
Metal Seated; ANSI Class IV leakage
Fire Safe meets API 607, Rev. 4
Mil-Spec Valves per MIL-V-24624(SH)
Automated Valves; Pneumatic, Electric and Hydraulic
Flowseal Catalog | Flowseal Installation & Maintenance | Flowseal MS
---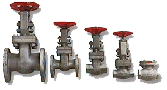 Aloyco Corrosion Resistant Valves
For nearly 70 years, Aloyco has been a world leader in the design and manufacture of corrosion resistant valves. Aloyco gate, globe and check valves withstand the severe conditions encountered in applications ranging from refining and chemical processing to pulp and paper production.
Gate valves, Globe Valves, Angle Valves and Check Valves
Class 150 – Class 600
Sizes 1/2″ – 24″
Threaded Ends, Socket Weld Ends and Flanged
Bolted Bonnet and Screwed Bonnet
316SS and Alloy 20 Material
Special Materials: Hastelloy C, Monel, 304SS and others
API 603

Cast Steel
Crane is a leading manufacturer of cast steel gate, globe & check valves. Typical applications for Crane cast steel valves include flow control and fluid handling for refining, oil and gas production, pulp and paper, waste water treatment and chemical processing.
Gate valves, Globe Valves and Check Valves
Class 150 – Class 600
Sizes 2″ – 48″
Flanged ends and Butt-Weld ends
Bolted Bonnet
Swing, Tilting Disc and Stop Check
NACE and Special Trims (i.e., 316SS, Bronze, Monel)
API 600
---
Center Line Butterfly & Lined Check Valves
Rated to 150, 200 and 285 PSI Shut-off
Sizes 2″ – 48″
Wafer and Lug Body Style
Series 200 – 200 PSI (2″ – 12″) 150 PSI (14″ – 42″) Long
Neck Cast Iron or Ductile Iron Body
Series 225 – 285 PSI Shut-off, Ductile Iron Body
Series 250 – Standard Carbon Steel Body, Optional Stainless Steel Body
Series 300 – Direct Drive Butterfly Valve, Cast or Ductile Iron, Carbon Steel and Stainless Steel Body
Available with Ductile iron, Aluminum Bronze, 316SS or Monel Disc
Seats in Buna or EPDM are standard with many optional seat materials available
2-Way and 3-Way Assemblies
On-Off, Mixing and Modulating Flow Control Systems
Series 800 – 150 PSI Fully Elastomer Lined Check Valve
Centerline Catalog | Centerline IOM Manual

Duo-Chek Check Valves
Duo-Chek II high performance check valves are the original Mission wafer check valves that were introduced to the market in the late 50's. They are available in sizes, pressure classes and configurations that you need to meet the most demanding of applications.
Sizes 2″ – 72″
Lug, Wafer, Double Flanged, Retainerless and Extended Body Styles
Raised Face, Plain Face Ring Joint, Weld End and Hub End connections
Resilient Seal Materials
Bodies in Cast Iron, Ductile Iron, WCB Cast Steel, 316SS, All Alloys